Maine Savings Amphitheater Information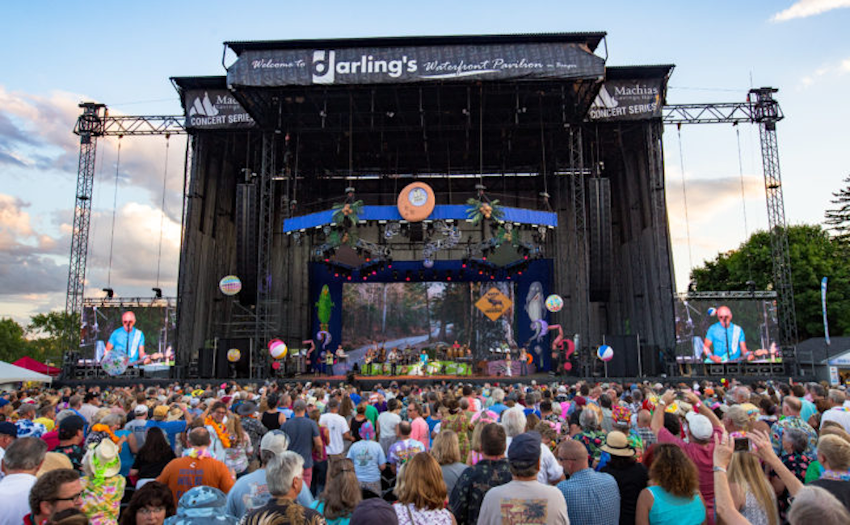 Darling's Waterfront Pavilion is an open-air amphitheater in Bangor, Maine that was a temporary structure built along the Penobscot River. The venue typically operates from July through to October every year and is the home of the Waterfront Concert Series as well as host to a wide variety of concerts and live performance events.
The venue originally had space for only 8,000 spectators and opened on July 27, 2010, with Celtic Woman performing their very first concert. The venue is owned by the city of Bangor and features a seating arrangement that can comfortably seat up to 15,000 spectators depending on the configuration. In 2012, the Bangor city council submitted a vote to turn the, then temporary structure into a permanent venue, but the vote failed to pass. The venue owners were not deterred, however, as it underwent renovations in 2013 to maintain the grounds, update the venue to adhere to noise ordinances, and expand the venue to allow 15,000 spectators, a near 100% increase.
Ever since then, the venue has become the talk of the state, with many economists studying the venue to see how it affected Bangor's income, concluding that since it's 2010 opening, it has earned more than $30 million, making it one of the most successful venues in Bangor and many nearby cities.
Regardless of the effect, the tradition of Darling's temporary structure and annual production season serves the community well, since it knows that there are several months of the year for excellent entertainment and several more relaxed months to enjoy.
See the below pages for further information on the Maine Amphitheater:
Maine Savings Amphitheater Parking:
Find out more about parking options at the Maine Savings Amphitheater.
Ticket Policies:
Read about the famous ticket guarantee and ticket authenticity policies when you purchase tickets via this website.
Maine Savings Amphitheater Seating Chart:
View the Pavilion Waterfront Amphitheater seating chart and read up on all the various seating options.